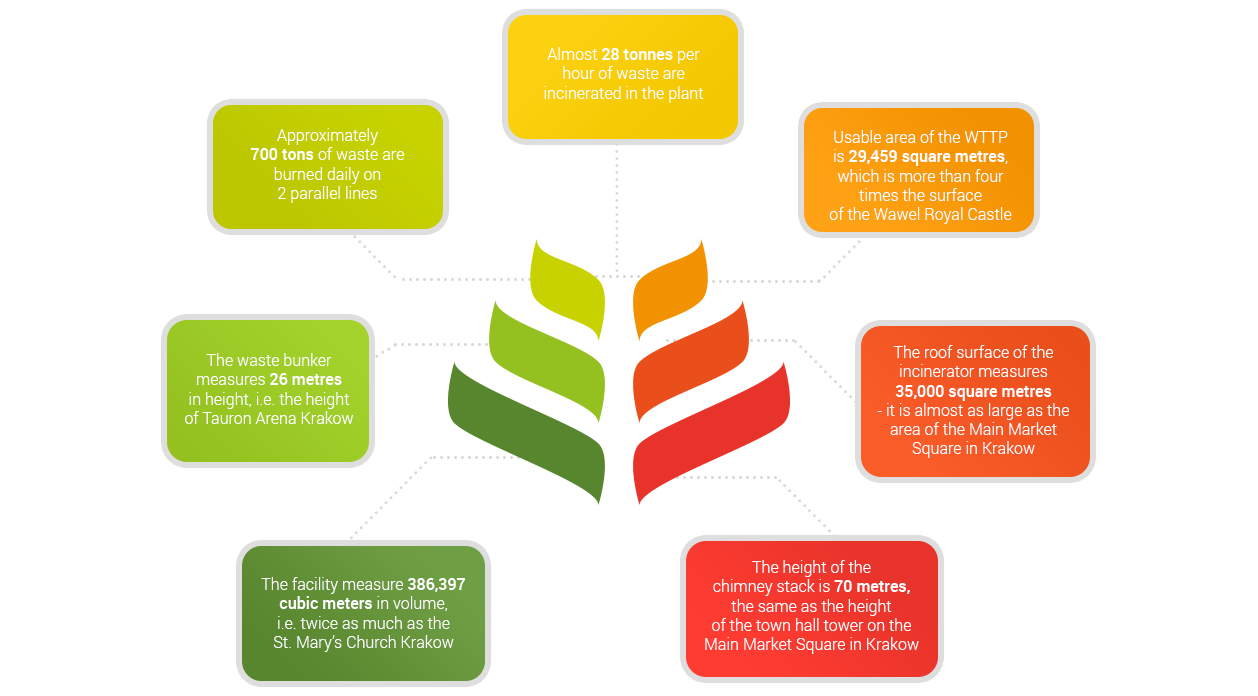 The Thermal Waste Treatment Plant in Krakow (Eco-incinerator) was built in response to the ecological needs of Krakow as part of the project "Waste Management Program in Krakow" under the Operational Program Infrastructure and Environment 2007-2013. The construction of the Eco-incinerator began on 6 November 2013 and continued for 2 years. The final tests at the plant began on 3 December 2015 and eventually the facility was transferred to KHK S.A. on 27 June 2016. The total net cost of the Project was approximately PLN 666 million (approximately PLN 819 million gross). The subsidy from the European Union amounted to approximately PLN 372 million (approximately 55.8% of eligible expenses). The contribution of KHK S.A. amounted to approximately PLN 294 million and was covered by its own resources and a loan from the National Fund for Environmental Protection and Waste Management (NFEP&WM).
The plant is located in the south-eastern part of the city of Krakow in District XVIII. i.e. Nowa Huta, 23 Jerzy Giedroycia Street.
The plant can process 220 thousand tonnes of municipal waste in a year. Mixed municipal waste, selected by the inhabitants, and other waste resulting from mechanical processing of municipal waste (following waste recovery processes, i.e. material waste, bulk, rubble) are subject to thermal processing. The waste originates only from the municipality of Krakow.
The plant is a state-of-the-art installation meeting the requirements of the so-called Best Available Techniques (BAT), guaranteeing the highest standards of environmental protection.
Educational activities are conducted in the Eco-incinerator area as part of the educational pathway launched on 1 October 1 2016, aimed at increasing the ecological awareness of the inhabitants as well as bringing the technology and thermal plant operation processes closer to them. The educational pathway is an integral part of the Eco-incinerator. It leads throughout the plant, showing the key elements of the system such as delivery and unloading of waste into the bunker, the process of thermal conversion of municipal waste, the flue gas scrubbing process, the electricity and heat production process and the process of managing residue after incineration.
PLANT OPERATION BENEFITS
The Thermal Waste Treatment Plant (TWTP) - a cost effective and safe solution. The TWTP in Krakow meets the highest environmental and legal standards applicable in the European Union. As the new installation meets BAT requirements (Best Available Techniques), the amount of waste is limited and thus securing energy to the city has increased.
Energy security signifies a prospective condition of meeting consumer demand (including the citizens of Krakow) for fuel and energy through alternative sources of acquiring gas.